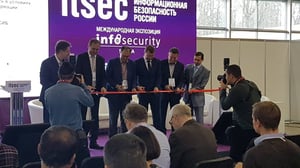 Two events at once took place on the 21-23 of November in Sokolniki Expo: XV international Exhibition InfoSecurity Russia / ITSEC 2018 and XI international Forum All-over-IP 2018.
Andrey Miroshkin, CEO, Groteck Business Media:
Dozen of industries have met in two pavilions of InfoSecurity Russia / ITSEC and All-over-IP and have formed a single creative industry before our eyes. Participants are creating joint solutions, hastening sales and developing new markets together. This year entrepreneurs, directors and specialists have found themselves on two technology holidays instead of one during familiar dates. Every person I've talked to is delighted with the double volume of ideas, acquaintances and strategies, based on the convergence of technologies.
The following persons participated in the opening ceremony of ITSEC / InfoSecurity Russia:

Vitaliy Lutikov, Deputy Director, FSTEC of Russia




Yuriy Pogozhev, Deputy Director of the Information Technology Department, Administration of the Ministry of energy of Russia




Sergey Shabalin, member of the Expert Council, State Duma Committee on energy




Mikhail Kulik, Deputy Director of the principal Department, Moscow Government




Alexander Baranov, Deputy Director, the Main Scientific Innovation centre of Federal Tax Service of Russia



Missed the event? All materials of the Exhibition and the program will be published on the website in the nearest future.