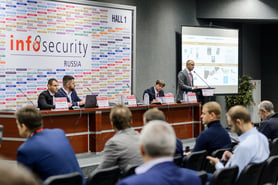 The conference "Secure Digital Bank: Compliance and the Latest Technology" will take place on the 23rd of November and will be dedicated to the digital banking, how it complies with the law and the latest technology trends.
The main agenda of the first section (10:30-13:00) is the actual legislation, both russian and european.
Moderator of the section is Artem Kalashnikov, the Head of FinCERT, Bank of Russia. He will tell about prerequisites which contributed to the emergence of the information exchange between banks and about the automation of information exchange.
Olga Kraeva,Information security department, Bank of Russia, will highlight some aspects of the current regulatory framework for banking activities.
Stanislav Nikitin, cyber security and business continuity department manager, PwC in Russia, will reveal secrets about the influence of GDPR on Russian banks and consequences of non-compliance with regulations.
You can get your ticket and visit the exposition and the program after the short registration on the website.