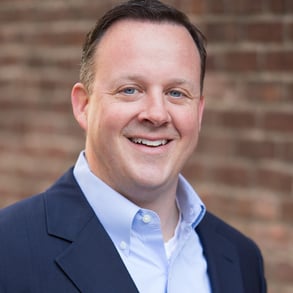 InAuth is the exhibitor at InfoSecurity Russia / ITSEC 2018 and Sunil Gossain, SVP, InAuth EMEA will share his experience on the 21st and 22nd of November. Today Michael Lynch, InAuth's Chief Strategy Officer, will answer some questions about the company and the participation in the Exhibition. He is responsible for developing and leading the company's new products strategy, as well as developing key US and international partnerships. He brings two decades of experience in key roles within financial services, consulting, and Fortune 500 companies, specialising in security and technology leadership.
Q: What is your Company profile?
Michael Lynch: InAuth is the leading digital device intelligence company for today's evolving digital "always-on" world. InAuth analyzes devices and associated identities, providing powerful intelligence on any device transacting with a business's digital channels to help them make more confident risk decisions, reduce fraud, and help enable frictionless experiences for good customers.
Q: What is your Company's strength?
Michael Lynch: Permanent Device Identification:
InAuth offers financial services providers a "mobile-first" strategy mitigating against digital attacks and offering real-time risk decisioning to provide the end consumers with a frictionless experience on the much-used mobile channel.
InAuth is the only provider to produce a unique and permanent device ID, InPermID, for devices transacting through mobile apps. InPermID survives app uninstall/reinstall, along with operating systems upgrades and cannot be spoofed. This allows financial services providers to recognize and differentiate returning devices with confidence. The mobile device acts as a trusted second factor of authentication, proving "something you have". Authenticating customers can be done within a few steps, and risky devices stopped in their tracks.
Fraud Prevention:
lnAuth performs device integrity screening on every interaction including financial malware and crimeware detection, cloaked rooted and jailbroken detection, and mobile application validation. We also collect thousands of device attributes
to uncover high-risk factors like location inconsistencies, anomalies, and velocity attempts that can be clear indicators that a fraudster is working behind the scenes. Combined with our powerful device identification technologies, lnAuth can enable your negative device list to become an even more powerful tool for preventing fraud.
Frictionless Authentication:
lnAuth provides a unique and permanent device ID for mobile apps and a similarly strong ID for browser, allowing you to identify devices with confidence. Once a user is tied to an lnAuth device ID, you're able to better recognize and trust returning devices, allowing more customers to transact faster and with greater ease. Authenticating your customers can be done within a few steps, providing a better user experience.
Q: How do you see the market growth in the future and what is your role in it?
Michael Lynch: Fraud in the financial services industry has been rising in recent years. According to PwC's Global Economic Crime and Fraud Survey 2018, 49% of respondents said their companies had suffered fraud, up from 36% in 2016. It is increasingly important to detect fraud at its earliest part of the financial lifecycle, before fraudsters have the chance to gain access to consumer accounts and transactions. At the same time, consumer expectations for 24/7 digital access are growing, along with competitive pressures on financial institutions and merchants to abandon more stringent manual application review processes to open accounts more quickly on the digital channel.
We believe that partnering with a digital intelligence solutions provider, such as InAuth is critical for banks and financial institutions, as device authentication is a key step towards preventing fraudulent activity on the digital channels.
Q: Your expectations from the participation in InfoSecurity Russia / ITSEC 2018?
Michael Lynch: To introduce InAuth to the Russian market and bring our extensive experience protecting some of the world's leading brands.
Q: Why do you recommend participating in the Exhibition?
Michael Lynch: InfoSecurity Russia is the leading conference and exhibition on the Russian market, providing intel to banks and financial services companies looking to educate themselves on the latest trends and all matters "fraud prevention and security". We are delighted to be speaking and exhibiting at the 3-day convention and are looking forward to conducting productive business meetings at the event.
About InAuth:
InAuth is a leading digital device intelligence company for a mobile-first world. InAuth delivers the most advanced device identification, risk detection, and analysis capabilities possible to help organisations limit risk, remove friction, and reduce fraud within their digital channels. With safer digital transactions, banks, payment networks, merchants, healthcare providers, governments, and other organizations are better positioned to capture new revenue opportunities and compete more effectively in an "always-on" world. More information >
To visit the Exhibition and meet InAuth in person please register here